---
202 N. Redwood Hwy, Suite C, Grants Pass, OR, 97527 (Same space as Spurlock Art & Wine) • (541) 291-7900
(Same space as Spurlock Art & Wine, next to Duo Gym)
---
Welcome to Candela!

Do you want to learn to dance? The hardest part is taking the leap and going your first class! Once you're here, we'll make you feel at home. It's a great way to meet new people or try something different with your significant other. We have a lot of fun and hope you come join us!
---
~ May I Have This Dance? ~
Welcome Back!

May is the month of happy returns!

~ Maryann is back with Line Dancing on Thursdays at 6:30 p.m.

~ The Rogue Valley's biggest annual West Coast Swing event, the SOswing Convention, happens May 16-19 in Ashland

~ Our resident Bachata duo, Saraleno, is back from Mexico - join them on Wednesdays for Latin Lunchtimes & all-levels Bachata (and don't miss Sarah Jane's Bellydance Fitness on Wednesday mornings!)
---
UPCOMING EVENTS AT CANDELA: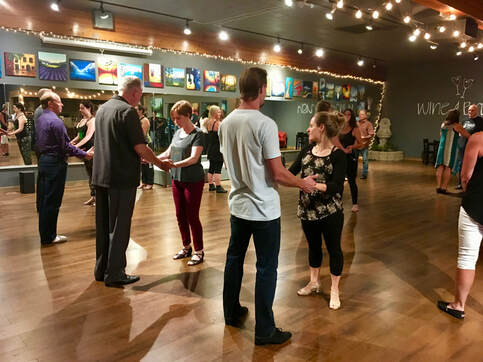 • MAY 6 (MON) - MONTHLY WEST COAST SWING SERIES:
Each month, Candela offers a Beginning West Coast Swing series. The May 4-week beginner series with Melissa & Shawn from
5:30 to 6:15 p.m. on Monday, May 6.
The cost is $30 per person. No partner or experience needed! Other West Coast Swing classes on Monday nights:
Open Practice:
6:15 to 6:45 p.m. (Free / Everyone welcome)
Level II WCS:
6:45 p.m. w/ Melissa & Paul / $9 drop-in or $30 4-class card
Level III WCS
: 8 p.m. w/ Tess Minnick / $10 drop-in or $35 4-class card
Open Social Dancing
for everyone after 9 p.m. / FREE!
ADVANCE SIGN-UP REQUIRED FOR LEVEL I: To enroll, call (541) 291-7900 or email candeladancegp@gmail.com
• MAY 3 (FRI) - KARAOKE DANCE NIGHT:
That's right...we're bringing back the ever-popular Karaoke Dance Night! It's exactly what it sounds like: get your groove on while your friends serenade you, or belt out your favorite tune and watch people dance! Featuring KJ Paul Diffendaffer. Doors open at 7 p.m. / Karaoke from 7:30-10 p.m. / $10 admission
• MAY 10 (FRI) - WEST COAST SWING DANCE & CONTEST + POTLUCK:
It's time for another WCS dance night at Candela - complete with a dance contest and a potluck! WCS Lesson w/ Lauren & Shawn at 7:30 p.m. / Dance Party to follow / 9:30 p.m. Jack & Jill West Coast Swing dance contest /
Admission is $10 or $7 if you bring a potluck dish to share


• MAY 16-19 - SOSWING CONVENTION:
It's the biggest West Coast Swing event of the year in the Rogue Valley! This convention - complete with workshops, competitions, and all-night social dancing - takes place at the Ashland Hills Hotel & Suites in Ashland. Visit
www.soswingdance.com
to learn more!
• MAY 30 (THU) - SPECIAL EAST COAST SWING PARTY:
Need a mid-week pick-me-up? Join DJ Mel for this Special Salsa Dance Party. No lesson - just dancing :) Salsa and Bachata, too! 6:30-8:30 p.m. / $5 admission
• MAY 31 (FRI) - LGBTQ+ LATIN DANCE NIGHT:
We believe dancing is all-inclusive and we invite you to a celebratory evening of Latin dance and community! This welcoming and friendly event is for everyone - all ages and allies are encouraged! Like "The Q" on Facebook for more info and updates. Bachata Lesson w/ JJ & Kim at 7:30 p.m. / Latin Dance Party until 10:30 p.m. / $10 admission
---
Get connected
TEXT ALERTS:
​You can now receive text alerts about upcoming dance events! Text ONE of the following words to (541) 291-7900:
- LATIN to receive alerts about Latin dance
- SWING to receive alerts about Swing events
- ALL to receive all dance alerts
EMAIL NEWSLETTER:
Want to receive our monthly email newsletter? Send an email to candeladancegp@gmail.com with "newsletter" in the subject line.
FACEBOOK GROUP:
Chat with other dancers by joining the Candela Dance Studio Group on Facebook! Click
HERE
to join.
---
The vision behind Candela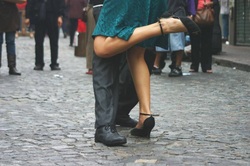 Candela Dance Studio was created to expand dance opportunities in Grants Pass and to spread the love of dance. We currently offer classes in West Coast Swing, Bachata, Line Dancing, Salsa, Zumba, Ecstatic Dance, Yoga, Tango and Nightclub 2-step. Our aim is to share the joy that we feel when dancing.
The vision is for the studio to be a place where people can come to learn dance steps, patterns and technique in a welcoming, friendly and safe environment among friends. Once those technical building blocks are in place, dance can be a wonderful and extremely satisfying way to express yourself!
The studio would not have been possible without community support from fellow dancers

and others. To learn more about our story, click HERE
Private lessons & Rentals
~ GROUP CLASSES ~
For the group class schedule, click on the CLASS SCHEDULE tab above.

~ STUDIO RENTALS ~
Candela Dance Studio is available to rent for private parties, rehearsals and special events. Inquire for details.

~ PRIVATE LESSONS ~
In addition to group classes, private lessons are available. For rates and availability, call (541) 291-7900 or email candeladancegp@gmail.com. You can also book a private lesson in West Coast Swing or Salsa online